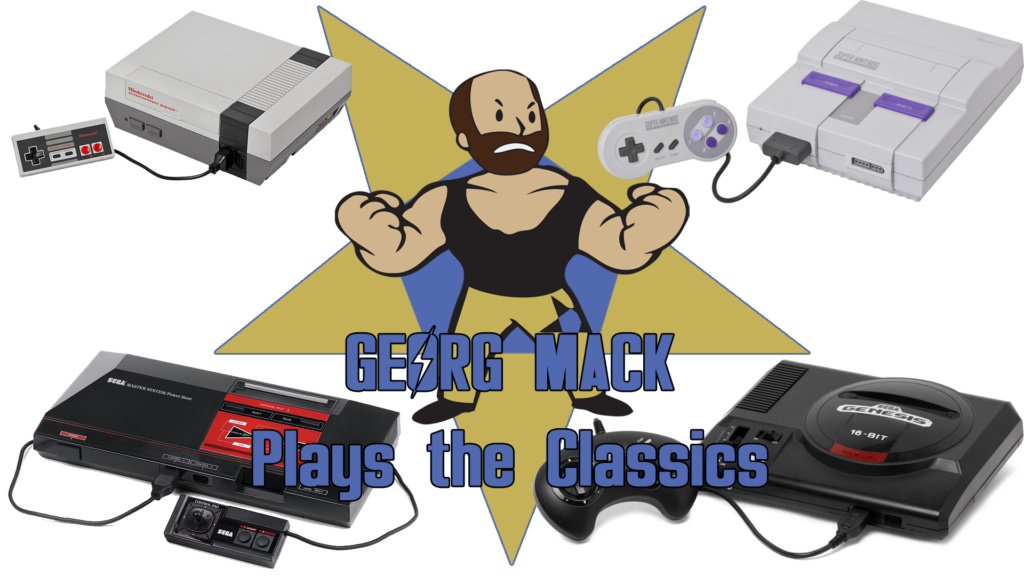 Here's a fun little diversion featuring the "Star of Destiny" Georg Mack. The goal is to play the American libraries of the Nintendo, Sega Master System, Sega Genesis, and Super Nintendo in chronological order. That means we'll start with the NES, add in the SMS when they start to release, and get into the Genesis and SNES, as well.
There are three parts to this blog:
The playthrough on Twitch.
A summary video on YouTube.
A review article on AmericanLuchaLibre.com.
Each review will be accompanied by a grade. The grades are on a 4.0 scale for each category, then an overall average.
Graphics:
Not all graphics are created equally. Some are minimalist, but do a good job of portraying what they should. Others try too hard and don't succeed at their goal. Even others straddle these spectrums and everything in between. This grade tries to assess if the graphics do what they should and as time goes on will be compared to other, similar entries.
Sound:
Sound is an important category within a game's design. Music, sound effects, samples, etc. all fall in this category. Gamers know that music can invoke emotions, memories, and more within them. How good the sound is in a game factors into how good the game is as a whole.
Gameplay:
How the game controls. How responsive it is. How intuitive the game is. How well it's designed. Etc. Gameplay is an integral element to any game. If the gameplay sucks, there's no benefit to good graphics, sound, or anything else.
Difficulty:
This isn't a case of harder is better or easier is better. It's a case of how right the difficulty is.
Fun Factor:
How fun is the game? A game can be fun despite any flaws it has elsewhere. That would show up here.
Overall Grade:
An average of the 5 factors on the 4.0 scale gives the final overall grade.
Grade Point Explanations:
4.0 – Outstanding, a paragon of achievement.
3.5 – Excellent, a great example of what to do in a game.
3.0 – Good, competent at what it's doing, adds to the game.
2.5 – Above Average, better than what is expected for its time.
2.0 – Average, a non-offensive example of mediocrity.
1.5 – Below Average, doesn't quite reach the levels of average.
1.0 – Bad, it's there, but it doesn't achieve what it should.
0.5 – Awful, a terrible example of what to do in a game.
0.0 – Missing or completely deficient.
1985
1985 Review: Ranking the NES Launch Titles
1986
M.U.S.C.L.E.: Tag Team Match (NES)
Alex Kidd in Miracle World (SMS)
Marksman Shooting & Trap Shooting (SMS)
Rambo: First Blood Part II (SMS)
Ranking the Best Console Games of 1986
Ranking the Worst Console Games of 1986
1987
The 3-D Battles of World Runner (NES)
Mike Tyson's Punch-Out!! (NES)
Fantasy Zone II: The Tears of Opa-Opa (SMS)
1988
Town & Country Surf Designs: Wood & Water Rage (NES)
Ikari Warriors II: Victory Road (NES)
Alex Kidd: The Lost Stars (SMS)
Iron Tank: The Invasion of Normandy (NES)
Zillion II: The Tri Formation (SMS)
Wonder Boy in Monster Land (SMS)
Lee Trevino's Fighting Golf (NES)
1943: The Battle of Midway (NES)
Miracle Warriors: Seal of the Dark Lord (SMS)
Golvellius: Valley of Doom (SMS)
Indiana Jones and the Temple of Doom (NES)
Where in the World is Carmen Sandiego (SMS)
Castlevania II: Simon's Quest (NES)
Zelda II: The Adventure of Link (NES)
1989
Bandai Golf: Challenge Pebble Beach (NES)
John Elway's Quarterback (NES)
Master Chu and the Drunkard Hu (NES)
The Adventures of Bayou Billy (NES)
Teenage Mutant Ninja Turtles (NES)
Alex Kidd: High-Tech World (SMS)
King's Quest: Quest for the Crown (SMS)
The Adventures of Tom Sawyer (NES)
Jordan vs. Bird: One on One (NES)
Flying Dragon: The Secret Scroll (NES)
Tommy Lasorda Baseball (Genesis)
Alex Kidd in The Enchanted Castle (Genesis)
Keith Courage in Alpha Zones (TG-16)
P.O.W.: Prisoners of War (NES)
World Championship Soccer (Genesis)
Wonder Boy III: The Dragon's Trap (SMS)
The Adventures of Captain Comic (NES)
Jeopardy! Junior Edition (NES)
Wheel of Fortune Junior Edition (NES)
Arnold Palmer Tournament Golf (Genesis)
Romance of the Three Kingdoms (NES)
Dig Dug II: Trouble in Paradise (NES)
Cybernoid: The Fighting Machine (NES)
IronSword: Wizards & Warriors II (NES)
The Revenge of Shinobi (Genesis)
1990
Rescue: The Embassy Mission (NES)
Rock 'n Ball (NES)