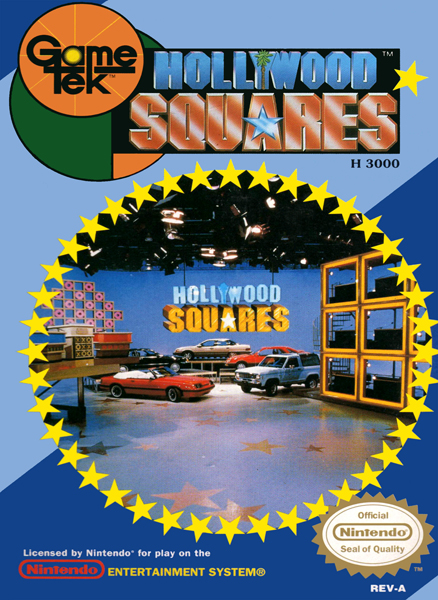 Hollywood Squares
System: NES
Release Date: September 1989
Developer: Rare
Publisher: GameTek
Genre: Game Show
We've been through America's favorite game show hour, so let's go to the B-Squad in Hollywood Squares. You choose to play against the computer or another player. I pulled the wife, Gert, in to join me. In an odd choice, multiplayer is pass the controller, even if you have two.
The object of the game is to get a tic-tac-toe by answering a question correctly. Well, you get a question, the "celebrity" gives a joke answer, and then a response that you must agree or disagree with. If you're right, you get the square, but if you're wrong, it goes to your opponent. Two in a row will lead to your opponent going for the block. If they get it wrong, you don't win, but instead have to win off a correct answer.
The second round introduces the secret square, which if you are correct, you win a fabulous trip! Gert made it to Australia after missing out on the Bavarian Castle. The winner then chooses a key and then one of five cars to try to win. If you miss out, you can head back to play again. Keep winning to earn more chances to win one of the cars.
Graphics: 1.0
The people look funny.
Sound: 1.0
Sound and music are lame.
Gameplay: 0.5
Press the button, then choose agree or disagree.
Difficulty: 0.5
The questions are all 34 years old at this point, outdated is being nice.
Fun Factor: 1.0
Normally multiplayer makes a game better, so think how lame single player is.
Overall Grade: 0.8
Hollywood Squares earns a D. Spousal abuse jokes aren't particularly entertaining in an NES game.