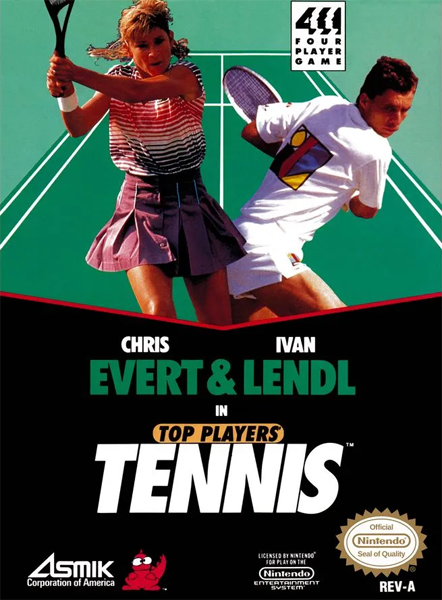 Top Players' Tennis
System: NES
Release Date: January 1990
Developer: Home Data
Publisher: Asmik
Genre: Sports
Chris Evert and Ivan Lendl lend their names and likenesses to Top Players' Tennis. While these two may have been at the top of the sport, the game they appear in does not hold the same accolade. Asmik is going to publish the best pro wrestling game ever a decade down the road (VPW2), but this is a real stinker. I guess you can give it some credit for supporting four players with the multi-tap.
Choose between singles and doubles action. You can play a tournament against the computer or head to head with other human players. You can choose to play as Ivan Lendl and Chris Evert, or you can play as the generic Boy or Girl. If you choose the generic player, you get to name them and set their stats from a pool available. The manual promises more points as you win games, but I'll have to take its word for it.
Once you actually get on the court, it's an ordeal. You throw the ball up with either button and hit a fast or slow serve with the A and B Buttons respectively. The first thing you notice is how off the timing of the swing and the ball actually moving is. This issue holds on through the entire game. The hit box is bigger than you expect and the timing is different than you'd expect, too. It feels bad. The A Button is your multi-tool for your strikes, while the B Button in your lob. You can also press them both at the same time for a jump or a miracle shot.
I started a tournament with Ivan Lendl, but tapped out after the first game. It took over twenty five minutes of play and the sloppiness of the controls had me in fits. The amount of balls the computer hits when it has already passed them is infuriating. I tried the doubles mode and my computer controlled partner was so terrible, I made the decision to just call it a day.
Graphics: 1.0
The sprites, animation, and color choices are all extremely poor.
Sound: 2.0
The music shows promise with different instrumentation, but it's sparsely used. The sound effects are rather annoying. The voice clips are extremely clear and well done, though.
Gameplay: 0.5
The controls are awful. The game plays so awful and floaty that it's inexcusable.
Difficulty: 0.5
The timing is what's hard in this game. The number of lets and faults I got, as well as misses when I clearly hit the ball, extended the game far beyond what it should have been.
Fun Factor: 0.5
I thought having the ability to build your player up over time was cool, but everything else was so bad…
Overall Grade: 0.9
Top Players' Tennis earns a D. This is generous thanks to the cool voice clips. Don't play this game, it's hard to get worse.