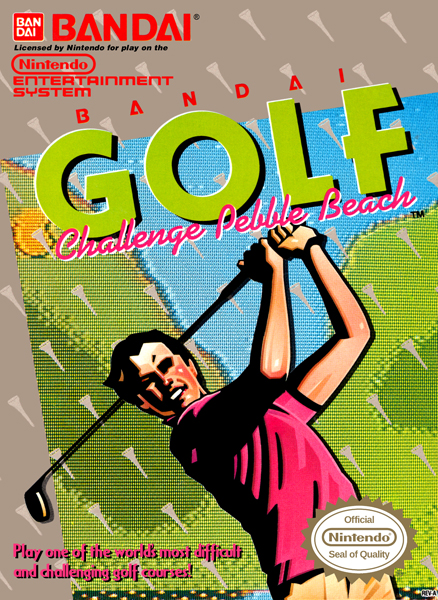 Bandai Golf: Challenge Pebble Beach
System: NES
Release Date: February 1989
Developer: TOSE
Publisher: Bandai
Genre: Sports
TOSE gave us Racket Attack, which was good, and now brings us Bandai Golf: Challenge Pebble Beach. It's a golf game. It's Pebble Beach. You choose 1 or 2 players and then set your handicap. Then, it's off to the links.
I'm not a big fan of golf games that don't tell you how far each club is going to hit. The instruction manual gives you the 1W, 3W, and 4W, and nothing else. The swing is a three click affair: back swing, fore swing, hit the ball. You have to take the wind into consideration, but you can't aim precisely.
There are eighteen holes to play… it is a golf game, after all. You get to see the course elevation at the top of the screen. There's a top down view of the course, as well. When you make it to the green, you can see the direction of slope. Of course, you don't know how much power you need to knock it in the hole, so good luck.
Graphics: 2.0
The course graphics are kind of nice, but they aren't great or anything.
Sound: 1.0
The music and sound effects are super basic.
Gameplay: 1.5
Aiming is poor, and not knowing the distance clubs hit is dumb.
Difficulty: 1.0
It honestly wasn't that hard, but I took some mulligans because I didn't know the distance.
Fun Factor: 1.0
It's not that fun of a golf game. Hopefully later titles will be better.
Overall Grade: 1.3
Bandai Golf: Challenge Pebble Beach earn a D+. I don't think it's a very good golf game. It's passable, but I wouldn't want to go out of my way to play it.