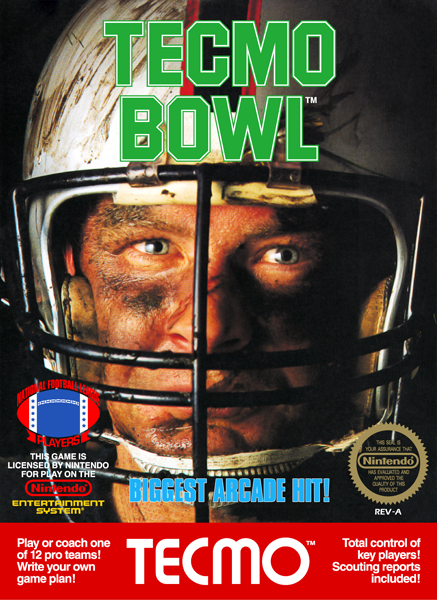 Tecmo Bowl
System: NES
Release Date: February 1989
Developer: Tecmo
Publisher: Tecmo
Genre: Sports
Finally we come to a real football game with Tecmo Bowl. Let's be honest, we've had what…? 10-Yard Fight and Great Football? Not good games, but Tecmo comes in with a deal with the NFLPA and BAM! We get a great football game that everyone can enjoy.
There are twelve teams to choose from that encompass the beginning of the 1988 season. They're mostly the best two teams in each division, except Houston is replaced by Los Angeles Raiders and New Orleans is replaced by the horrible NY Giants. You pick a team and play through the weeks in order to become the World Football Champion. I played three games with three different teams to see how it went. Needless to say, Week 1 is incredibly easy.
The teams have different playbooks and defensive schemes. Most teams have two run plays to choose from and two pass plays to choose from, but a couple teams are much more pass-oriented and give you three pass plays. Better hook Joe Montana up with Jerry Rice a few dozen times. Everyone, like Bo, knows that his running play from the Raiders, along with Howie Long at Defensive End is unstoppable. Chicago's defense with Mike Singletary and Steve "Mongo" McMichael is difficult to defeat. Running the score up on the computer is not difficult, so have at it.
Graphics: 2.0
I'm not going to come in here and say the graphics are amazing, because they aren't. Things look good, but players start flickering easily with so many players on the field.
Sound: 3.5
The music and sound effects are long-lasting. I knew them all from 30 years ago before I even started playing.
Gameplay: 4.0
At this point in gaming history, Tecmo Bowl scores huge in gameplay. It's easy to learn, satisfying to play, and is solid.
Difficulty: 2.0
I've never thought of Tecmo Bowl as difficult, but I'll be honest, I don't remember if it gets hard in later weeks. I am constantly sacking the QB and tackling the RB for loss.
Fun Factor: 4.0
You're not going to have more fun with any other sports game, or most other games up until this point. I hate football in reality, these days, but Tecmo Bowl is great fun.
Overall Grade: 3.1
Tecmo Bowl earns a B. This is easily one of the best games on the system, despite its grade. An upgrade in graphics and difficulty will do well. I wasn't a Tecmo Super Bowl player, so let's hope that can do it.