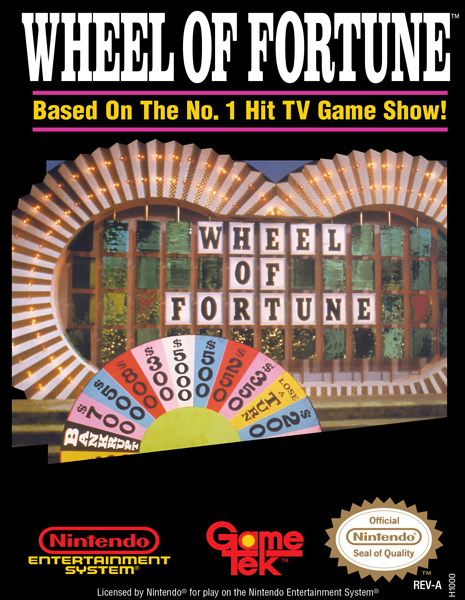 Wheel of Fortune
System: NES
Release Date: September 1988
Developer: Rare
Publisher: GameTek
Genre: Game Show
If you're not a Jeopardy! fan, then you probably enjoy the other half of America's favorite game shows, Wheel of Fortune. I again challenged my wife to some fun behind the controller and started to spin the wheel. You select number of players, pop in your names, choose a computer and their skill level, then it's round one.
The first player gets to spin. You set your spin strength, of which I'm certain there is a way to choose the space you land on, I was just too far in the bag to figure it out. Once you have enough money, you can choose to buy a vowel, or if you think you've got the puzzle, solve it. I usually like to push my luck when I know what it is, but there's always the risk of landing on the miss a turn or bankrupt space.
The third round changes things up and is the Speed Up Round. A dollar value is spun automatically at the beginning of the round and contestants take turns guessing consonants and vowels. It's a quick way to get back in the game if you happen to find a bunch of consonants. Before you reach the final round, you get to choose what prize you want to play for and then you're met with a blank puzzle. Unlike the rule change of 1988, you only get five consonants and a vowel. You aren't given R S T L N E. I raged about this, but once I won my dream vacation to Hawaii, I acquiesced.
Graphics: 1.0
You've got text, the spinning wheel, and what my wife called a very RuPaul looking Vanna White.
Sound: 1.0
Just like Jeopardy!, sound and music are also very minimal, the theme is there and there are sound effects and ditties that aren't great.
Gameplay: 2.0
I don't know how we can come up with any real problems with the gameplay, but it's very bare.
Difficulty: 2.0
All of the final rounds I saw could have been solved easily with R S T L N E. I look forward to the future editions post rule change.
Fun Factor: 2.0
Less fun than Jeopardy, just like in real life!
Overall Grade: 1.6
Wheel of Fortune earns a C-. At least Pat Sajak isn't here trying to bust my stones at every corner. It's fine.