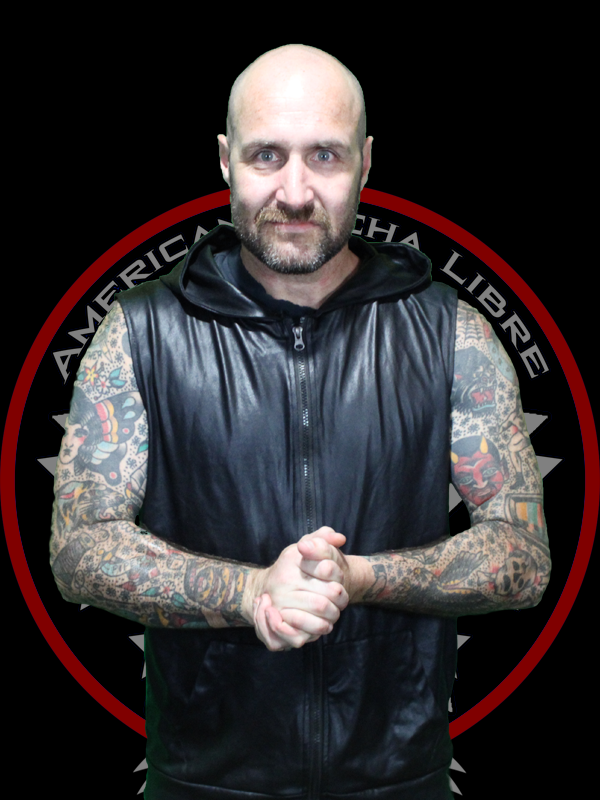 Josh Raymond
Height: 5'9"
Weight: 202 lbs.
Hometown: Kalamazoo, MI
Signature Maneuvers: Taliban Backpack (second rope jumping lung blower); Crisis Driver (1 Footed Spike Michinoku Driver); Skytwister Press (top rope double twisting moonsault into senton)
Pro Debut: February 2003
Trained By: Frankie The Face & Jimmy Jacobs (Additionally Training w/ Dan Severn, Can-Am WS – Scott D'amore, Chris Hero, Skadye, SUWA, Joe E Legend, and more)
Wrestling Style: Hybrid Versatile (All styles/highly diverse)
Bio: Raymond was world-traveled pro wrestler, working throughout North America and Europe, making his television debut for MTV's Wrestling Society X, touring Mexico's top promotion AAA, and worked full-time for Ring of Honor before stepping away from wrestling in 2011. Recently, Raymond returned to the sport he loves, knocked off the rust, and is back on a level that few in the world are. Amateur wrestling stand-out and has coached youth wrestling since 2003. Currently runs Wrestle U (Wrestle University) training aspiring pro wrestlers in the Kalamazoo area. Has been a guest instructor for Black & Brave, HOT School, and many more. As a Michigan wrestling mainstay, where better than Capital Pro Wrestling to make his name what it was and regain his notoriety.
Josh Raymond is one of the most successful wrestlers on the Capital Pro Wrestling roster. He has gone through opponent after opponent, but came up short in his pursuit of the Great Lakes Television Championship, losing to CJ Ottgen with the help of Joseph Norton. Josh has not lost sight of the prize, but the return of the Purge may have put a hold on his title aspirations.
Catch Josh Raymond on the Great Lakes Professional Wrestling Showcase
Episode 8 vs. D-Ray 3000
Episode 18 vs. Tommy Vendetta
Episode 23 vs. Keith Creme
Episode 28 vs. Dre Jacobs
Episode 30 vs. The Mysterious Movado
Episode 41 vs. Nolan Edwards
Episode 43 vs. Zak Ibiza
Episode 64 vs. CJ Ottgen
Follow Josh Raymond on Twitter