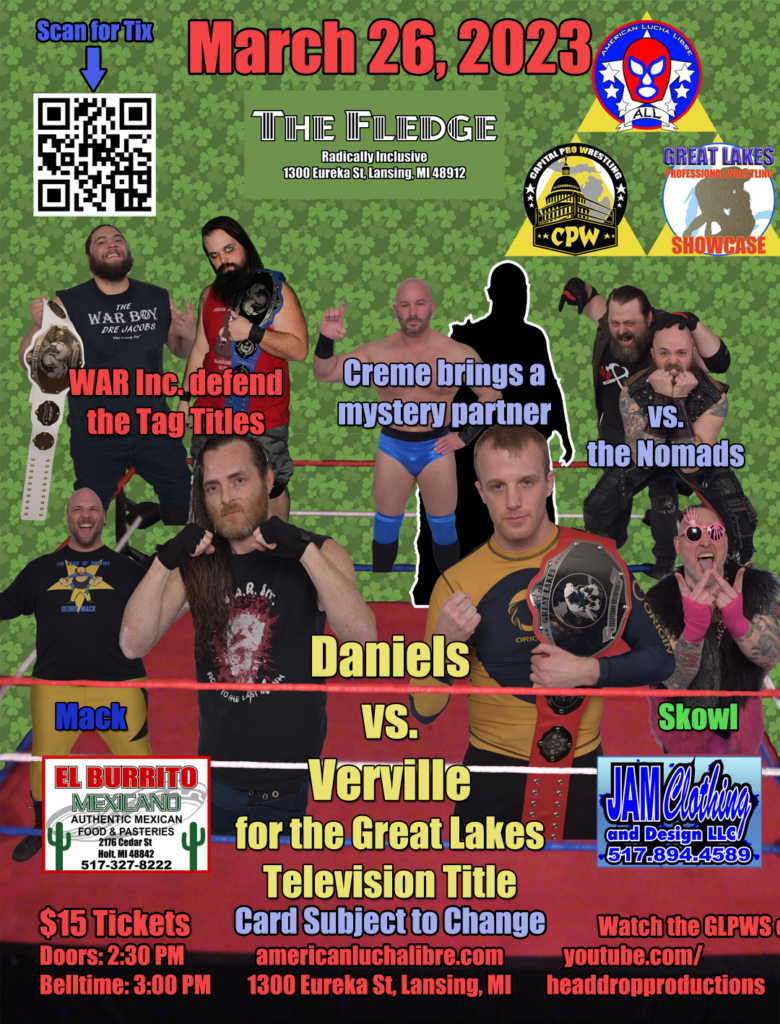 Get your tickets today for our next big event at the Fledge in Lansing, MI! Pre-sale tickets are available until midnight the day of the show. If you'd like to inquire about bulk ticket discounts, please contact americanluchalibre@gmail.com.


Brown Paper Tickets Ticket Widget Loading…

Click Here to visit the Brown Paper Tickets event page.
Join our event on Facebook so we know you're planning on attending! https://fb.me/e/I3667Y3f
Announced so far:
We will see Jack Verville's first defense of the Great Lakes Television Championship after defeating CJ Ottgen for the title in February. His handpicked challenger is one of the Great Lakes Tag Team Title holders, Billy Ray Daniels! The Redneck Rockstar has been hoping to get a match with Jack Verville for years and is now going to get his wish AND a title shot!
Dre Jacobs and Justin Dream will be representing WAR Inc. in the tag division and defending their titles in an open challenge match. Several teams have submitted their names to the American Lucha Libre Championship Committee, but the decision still needs to be made. We've heard from Marvelous Destiny, the BombSchells, Team Honey Badger, the Painkillers, and more. Which team will win the shot? Stay in contact with our Facebook page https://www.facebook.com/cpwlansing for the latest updates.
The Nomads have a bone to pick with "The DaVinci of Violence" Keith Creme after their run ins with him over the past few months. Keith has accepted the challenge of the Nomads and has promised to bring a partner that they aren't going to want to mess with. Who will be Keith's partner?
Plenty of other familiar faces and brand new debuts are in store, as well. Look out for Thurston Skowl, Jason Blasen, Royce Carney III, Don Tone Leone, Nick Xero, Dylan Derringer, and many, many more. Updated match listings will announced on Facebook and updated here.
We can't wait to see you at ringside!