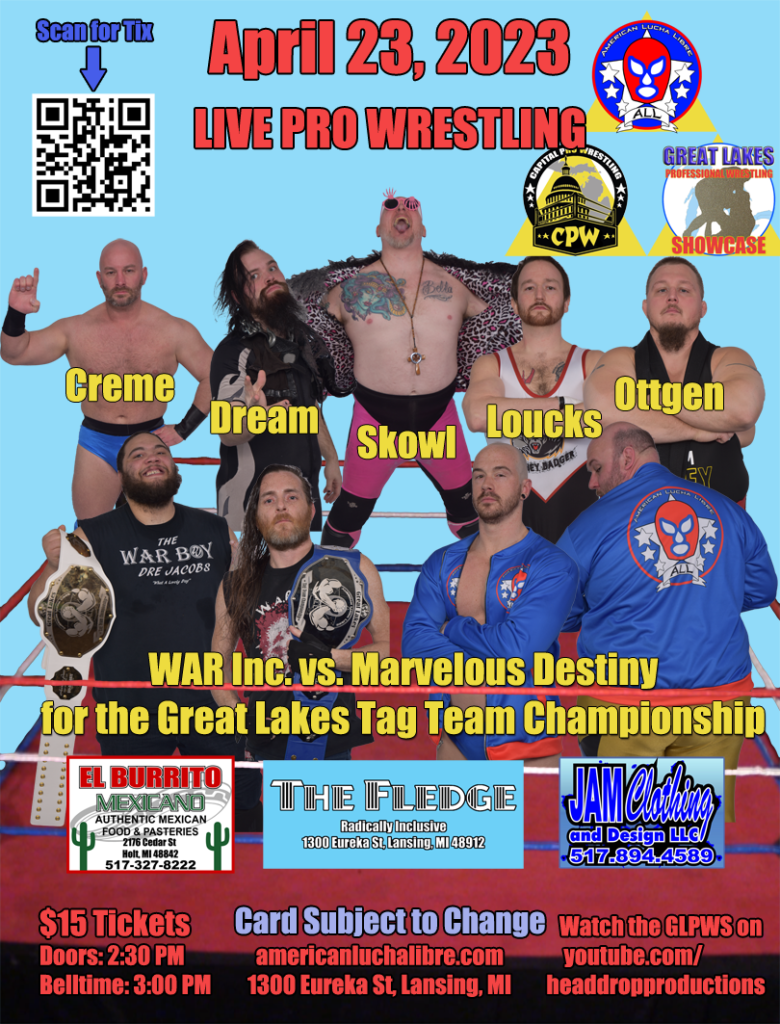 Brown Paper Tickets Ticket Widget Loading…

Click Here to visit the Brown Paper Tickets event page.
We're back at the Fledge on April 23rd with a 3 PM belltime.
Our main event scheduled for the evening is for the Great Lakes Tag Team Championship. The champions, WAR Inc. will be comprised of Dre Jacobs and Billy Ray Daniels. WAR Inc. has been a dangerous team in Capital Pro Wrestling, rarely losing a fall in tag team action. However, they have had some issues with the third member of the team, Justin Dream. He won't be the one in title action this time, though, and that's bound to cause some tensions among the citizens of the Wasteland.
The challengers have been one of the top teams, as well. Marvelous Destiny, Mike Marvel and Georg Mack, are undefeated in tag team action in CPW. They have been asking the championship committee about their shot and will be receiving it on April 23rd. They look to keep that undefeated streak going so they can walk away with the gold.
Also scheduled for the event is the one on one grudge match between Royce Carney III vs. Nick Xero. This match has been scheduled for our last two events, but first an attack by RCIII onto Xero kept him away from action, then illness on the part of RCIII and the Guru kept them out of the arena, as well. Xero looks to get revenge, but he'll have to get one over on BlasenAllDay Enterprises in order to do it.
We will also get to see the CPW debut of the Great Tiger. The masked man from Tokyo, Japan, will be in the house to introduce himself to the fans in the Capital City.
Also scheduled on the card:
Keith Creme
Justin Dream
Thurston Skowl
Team Honey Badger
JP Ono
The Made Men
Jason Blasen
and more!
Tickets are available for a discount at the top of the page, so get yours today!